Power-to-X and the energy transition
Together with other EU Member States, Germany has set itself the goal of becoming climate-neutral by 2050. Achieving this target will require net zero emissions for the complete energy system. A key role will be played here by 'sector coupling': Crosslinking the electricity sector with other sectors such as industry and transport. 'Power-to-X' (PtX) technologies are an important tool for sector coupling: they utilise electricity ('Power') to produce hydrogen, which can then be used to make other fuels and basic materials ('X').
PtX Lab Lausitz in Cottbus
Based in Cottbus, 'PtX Lab Lausitz – T&D Tank for Fuels and Basic Materials from Green Hydrogen' aims to establish a technical basis for the environmentally friendly production and use of PtX products, as well as establishing partnerships. The work of the lab will support the economy and civil society on its way to greenhouse gas neutrality, and therefore to the achievement of both national and international climate goals. This will enable Lusatia to become a model region for PtX in Germany and a post-fossil energy region for the future.
To do so, PtX Lab Lausitz will be focusing on green hydrogen and its intermediate products. The 'green' in green hydrogen means the input power has to come from renewable energy sources. In aviation and shipping in particular, the direct (large-scale) use of electricity from renewables is not yet possible. In these sectors, PtX products and technologies offer the only climate-friendly and sustainable alternative to fossil fuels over the long term. Read more ...
PtX Lab – in brief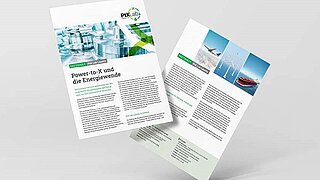 Factsheet: Key facts about the topic of Power-to-X and the work being done by PtX Lab Lausitz.
Regarding the content
All information on this website comes exclusively from the PtX Lab Lausitz and its employees. Any questions? Then please get in touch.